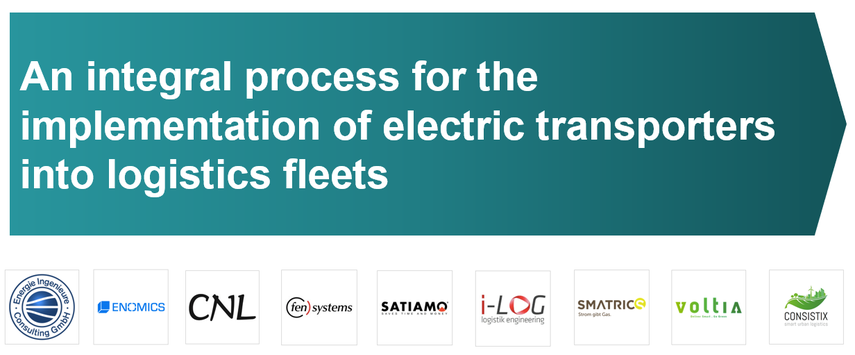 Current Situation
Market share of electric transporters is still < 1%
E-vans lack in range and load capacity
TCO (total cost of ownership) is high compared to conventional transport fleets
Legal restrictions (limits for CO2 emissions per km, driving bans for cities etc.)
However, there is a small group of clients that can already replace their fleets or parts of it with e-vans
It still lacks knowledge and training for this migration process
Rollout Guide
Based on the experiences and results of the LEEFF project, an integral process can be deduced which facilitates the implementation of electric mobility into delivery process transport fleets.
Several LEEFF project partners will support this process throughout the single stages (see figure below): Energie Ingenieure (demand analysis software), ENOMICS (Charging solutions), CNL (TCO calculations), Satiamo (logistics optimization software), i-log (logistics implementation), Smatrics (commercial and public charging infrastructure), Voltia (e-vans, e-mobility as a service), and Consistix (e-mobility logistics concept).
All modules of the rollout guide have been developed and tested within LEEFF and are already available for the market. Unlike static guides, the rollout guide is a dynamic tool (e.g., the partners are constantly updated to meet the clients's demand). Furthermore, the guide shall be transformed into a web-based e-mobility rollout platform.
Rollout Process

I First Info
An info package is provided to the client – with a full explanation of the migration-to-electric-mobility architecture
Link to e-mobility rollout platform (planned to be established)
Info workshop –  an open workshop format for the stakeholders of the fleet. The workshop is multidisciplinary and has no fixed program, thus, is adaped to the client's needs and requirements. The focus lies on answering questions and addressing "hidden" barriers, e.g., sociological aspects.
II Detailed Analysis
On-site analysis of the logistics system and logistic relations through interviews and questionnaires
On-site analysis of already available charging infrastructure
Evaluation of the available logistics database (e.g., telemetric data, logbooks)
Detailed record of GPS data (GPS data loggers)
III Evaluation & Concept
Software analysis of GPS data (see II Detailed Analysis) as starting point for performing simulations to determine (1) possible fleet compositions, (2) optimized charging infrastructure for chosen scenario, (3) possibilities for optimization of tour scheduling, (4) different scenarios
Based on the results of the analysis a cost evaluation of different scenarios is performed (TCO calculations)
An operational concept for the (gradual) migration of the fleet towards e-mobility is developed (combining strategy, project management, optimization of fleet logistics, and software-based optimization of logistics processes)
A concept/interface for further integration of the company's energy system-related components (e.g., PV, energy storage, load balancing)
This stage aims for the development of a full planning framework comprising infrastructure, charging points, vehicle fleet, and delivery tours.
IV Tender & Purchase
Implementation plan (see III Evaluation & Concept) as basis for tender/estimate of costs
Management advisory paper for the purchase can be created by request
Consulting service for the management through expertise of project partners
V Implementation
In-depth analysis of the company's energy system in order to successfully implement the charging infrastructure
Assisted delivery of vehicles
Installation of the charging infrastructure
Implementation of the IT-infrastructure (e.g., payment system)
Consulting service of in-company organisation/adaptation to new needs and requirements
Advanced on-site trainings and workshops including (1) company charging (handling, hazards, different types of charging standards TYP1/2/230V socket), (2) public charging (different types of charging standards, e.g., CCS, CHAdeMO, etc.), (3) training of drivers (energy saving driving style), (4) energy efficiency as holistic approach
VI Monitoring
Based on LEEFF project outcomes, a fleet is rarely converted at once. The migration happens rather stepwise or in tranches.
In order to ensure a smooth migration and to support the integrative processes towards electric mobility regular monitoring is mandatory for (1) measuring results and (2) assessing both good-case practices and deviations.